Who we are and what we do
Flip Flop Nomads is a family business, based in Melaque, Jalisco. We are not just a seasonal business, we are open all year and run locally based day trips, as well as various multi-day trips in and around Mexico. Each year we hope to offer different tours that promote and teach others about the colourful history and culture that Mexico has to offer.
We also offer various travel services and advise, both remotely and from our Melaque office. If you have any questions or queries about your stay in Mexico, contact us at info@flipflopnomads.com or drop by and see us in Melaque.
If we do not currently run a trip to a destination you are interested in visiting, or we do not have any dates scheduled for a particular tour, please do not hesitate to contact us and we will do our best to see if we can get something arranged for you.
A bit about me: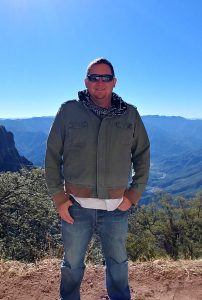 Dan Patman
I was born and brought up in Hampshire Southern England.
I went to University in Aberystwyth, Wales where I obtained my degree in Marine and Freshwater Biology.
I have always enjoyed travelling, having spent family holidays in Europe, I started my own travelling career spending a month in Pamplona Spain, improving my Spanish. This was quickly followed by South Africa, where I obtained one of my dreams of diving with Great White sharks. I then travelled to Grenada and finally started my Mexican Adventure.
I took part in sea turtle conservation at Majahaus and Chalacatepec as both a volunteer and organising tours and was given the opportunity to do some commercial diving in Manzanillo on the gas pipelines.
I met and married a Mexican special needs teacher and have two beautiful children. In 2012 I naturalized and became a Mexican citizen.
I also co-founded and was a part of Experience Mex-ECO Tours for over fourteen years before going on to create Flip Flop Nomads with my sister Charlie.