Guadalajara Overnight Shopping
An overnight tour to the Jalisco State capital: Guadalajara. Staying right in the heart of the historic centre, we'll show you some of the city's incredible architectural sites, as well as learn about the historical significance of this sprawling city. You'll also get the chance to explore some of the best shopping areas in the city and pick up some gifts, souvenirs, or maybe something for the home!
Concert trips also available and announced as and when we are notified of them. Dates to be posted.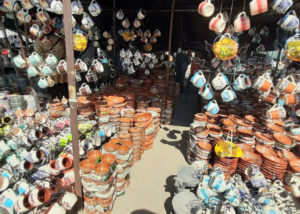 20th – 21st December 2023
Trip Overview
Day 1: Melaque to Guadalajara, Historic Centre
We arrive in the Jalisco State capital in the early afternoon, after a 5-6 hour journey from the coast. We'll offer a guided walking tour of the historic centre, including the Cathedral, Government Palace, and Degollado Theatre.
Accommodation: Guadalajara
Day 2: Tonalá, Tlaquepaque, & Return Travel
After breakfast we head over to the market area of Tonalá, where you'll get the opportunity to shop till you drop! In the afternoon, we visit the pedestrianised centre of the Tlaquepaque area, known for its boutique shopping, galleries, and fantastic restaurants to grab a bit to eat!
We also offer tours to various concerts and shows in Guadalajara, subject to availability. We will use the overnight itinerary as the base, with the evening used to go to the event in question. We will announce these shows as and when we are notified about them.
2023-2024 prices
$5,500 pesos per person based on double occupancy
$900 peso single person supplement
Transport
Accommodation
Breakfasts
Guide
Low to Medium
The pollution and altitude are the main factors for difficulty
Warm in the day, and a bit cooler at night.
The city centre of Guadalajara is 1,556m (5,138ft) in altitude.
The surrounding areas are of a similar altitude.
Measurements above sea level
Contact us for a full trip itinerary and for further information