Mexico City: Day of the Dead & Cultural Tours
Gallery
Click on an image to see full sized version
Mexico's national capital, Ciudad de México, is a sprawling city which covers approximately 1,485 km² and sits an an elevation of 2,240m. It is regarded as its own federal state and the population at the last census in 2015 recorded nearly 9 million people living in the city! Best to avoid rush hour if you can…
Located in the Basin of Mexico, the city lies on what was once Lake Texcoco and experiences frequent seismic activity due to its proximity to several active volcanoes on the Ring of Fire. Historically, evidence of human occupation in the area has been dated to the 10th century BC, but its most famous inhabitants are probably the Aztecs or Mexica.
In more recent history, the capital obviously played an important part in Mexico's bid for independence and political revolution movements, but it has also become a playground for aspiring artists, having once been called home by the muralist Diego Rivera and his student-turned-artist wife Frida Kahlo. Their homes and studios have become must-see attractions in the Coyoacán area and draw thousands of visitors each year.
Whilst one tour or one visit is not enough to cover and show everything this great capital has to offer, both our tours hope to give you a taste of the rich and diverse areas of this city and hopefully give you the confidence to come back and explore it at a greater depth!
Tours
We run 2 different tours to CDMX, including a visit to the city during Día de Muertos in November and a historical and cultural tour later in our season. Both tours include popular and must-see attractions in the city, but offer the chance to see the capital both in its everyday glory and during one of the most important festivals in the Mexican calendar.
Click the links below for further information or drop us an e-mail for full tour itineraries.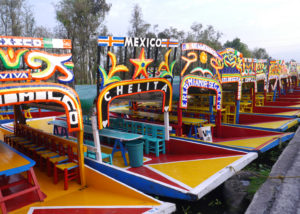 6 days, 5 nights
Our regular tour to Mexico City aims to show you some of the main attractions as well as take you into the heart of some of the local, bustling markets. Our 6 day trip is a whistle-stop tour of Mexican history, but also an insight into capital cultural traditions.